The Canadian System of Self-Defence
Therien Jiu-Jitsu

Therien Jiu-Jitsu teaches CAN RYU jiu-jitsu, which is the Canadian System of Self-Defence. Created in Ottawa by Professor George Sylvain, this modern style combines elements of traditional Japanese jiu-jitsu, judo, kickboxing, karate, and standard police techniques.
Jiu-jitsu offers a number of proven benefits, including:
Increased ability to focus in school
Assistance in setting goals and achieving them
Improved self-confidence
New friends
Basic self-defense techniques
Healthy exercise regime
We offer jiu-jitsu classes for all levels and ages. All students start with our introductory package, which includes three trial classes and a uniform, to safely learn the basics and earn their white belt. Contact us today or quickly book it online.
Junior Jiu-Jitsu
In addition to self-defence, jiu-jitsu is a great source of lifetime personal growth skills in a fun and motivating environment. Our team motivates kids and help bring them to their highest potential through hard work and discipline, while in a positive and friendly atmosphere. It's not unusual for us to get feedback from parents about the positive effects jiu-jitsu has on our youth, from better behaviour at home to more focus in school.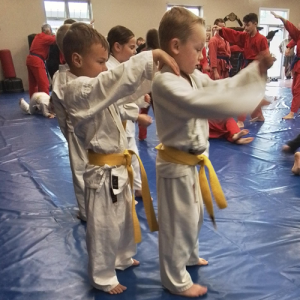 Adult Jiu-Jitsu
Therien Jiu-Jitsu is strongly based on the practice of self-defence and provides a stronger sense of personal safety.  The adult program at Therien Jiu-Jitsu follows the same curriculum as the youth program and in the same positive, social atmosphere, but moves at a faster pace. We include more intense cardio workouts and more focus on technical details. These programs promote the ongoing development of one's physical strength, agility, balance, leverage and timing, as well as self-esteem, self-control and concentration.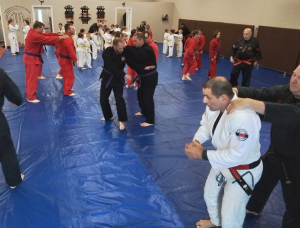 Essential Self-Defence
We strongly believe that self-defence should be available to everybody, regardless of age or physical limitations. Therien Jiu-Jitsu's Essential Self-Defence program provides just that.  Join these classes and learn critical martial arts techniques, customized to fit you.  You'll follow the same curriculum as all other jiu-jitsu classes. Rather than throws and grappling found in our traditional jiu-jitsu program, you will focus on escaping, striking and controlling your opponent in the most efficient manner possible.  If you have a sore back, bad knees, or any other concern, Essential Self-Defence may be for you!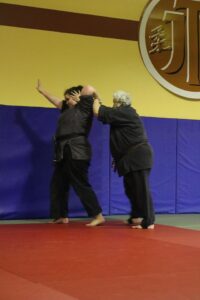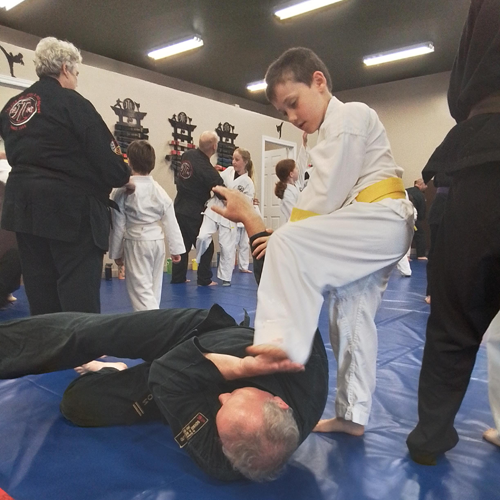 The Little Dragons program is designed to teach kids the basic principles of martial arts in a fun, play-based learning environment. Students will progress through levels while acquiring the right skills they need before joining the full jiu-jitsu program. This includes basic techniques and coordination, as well as important life skills, such as focus, respect, listening and confidence.
Schedule a Little Dragons intro to get 2 trial classes plus a gi for $35 (taxes incl.).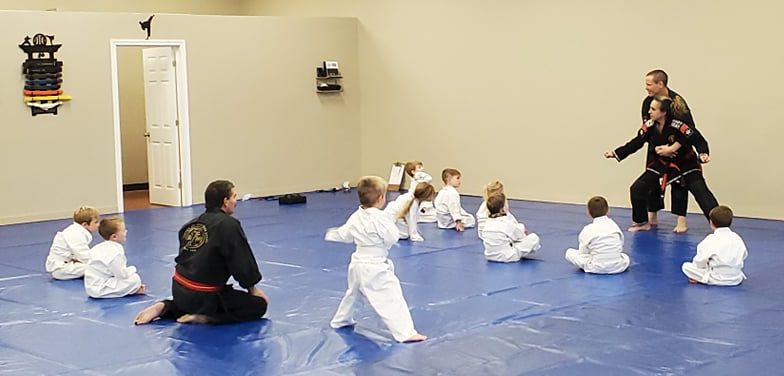 Want to learn more about jiu-jitsu?
Complete the form below to get in touch with us today!